Radial Pressure Wave Therapy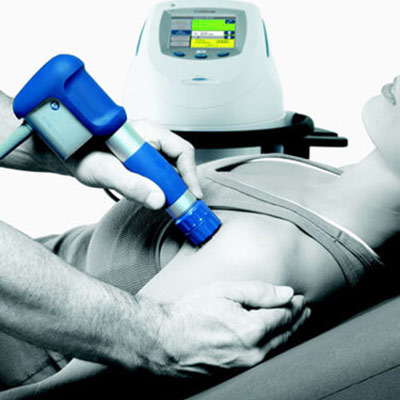 Caringbah Spinal Care offers Radial Pressure Wave Therapy (RPWT), also known as Shock Wave Therapy or Extracorporeal Shock Wave Therapy (ESWT), a non-invasive therapy that sends high-pressured acoustic sound waves that travel through the skin to targeted tissue to reduce pain and stimulate tissue healing.
Conditions Treated by Radial
Pressure Wave Therapy
Feet – heel spurs, plantar fasciitis, achilles tendonitis
Knee – patellar tendonitis
Hip – bursitis, reduction in mobility
Lower Leg – shin splints and tightened calves
Upper Leg – Iliotibial band friction syndrome
Back Pain – lumbar and chronic muscular pain
Carpel Tunnel
Shoulder – frozen shoulder, shoulder pain syndrome
Your session will last around 20 minutes. Our trained therapist will place a hand piece onto the injured area to allow the unit to gently transmit radial pressure waves deep into that region. By providing feedback to your therapist you can help them to fine tune the intensity and positioning of the handpiece.

After the treatment some patients may experience temporary soreness, tenderness or swelling for a few hours following the procedure. This temporary inflammation is a wanted effect to help to promote the bodies healing process.

You can expect your initial session to be around 30-40 minutes, as our Chiropractor will go through a thorough history and assessment to make sure you are a good candidate for Radial Pressure Wave Therapy. Subsequent visits will be approximately 10-15 minutes.
How many sessions will I need?

We recommend a course of care, which can be from 4-6 visits.
Does it hurt?

Radial Pressure Wave Therapy can vary in intensity depending on your individual needs and tolerance, but generally does not cause our clients significant discomfort.
Is it expensive?

We aim to make this treatment as affordable as possible. We offer an upfront payment plan of 4 sessions at a reduced price. We also offer reduced rates when combined with a spinal adjustment. Please call our friendly staff today to discuss fees.
What should I wear to the session?

Comfortable clothing that allows access to the area that requires treatment. Client gowns are also available to provide privacy for harder-to-access areas.
Is Radial Pressure Wave therapy covered by my private health insurance or my DVA card?

DVA – We accept DVA Health Cards (Gold and White) as payment upon a GP referral.
Private health insurance – If your health fund covers you for extras/allied health, you likely will be covered. Call us on (02) 9526-7633 for more information.
Are there any side effects?

Occasionally, our clients experience some minor reddening or slight bruising of the skin, which usually dissipates within 24 hours.
What are some common contraindications?
Haemophilia or other coagulation disorders
Pregnancy
Corticosteroid injections- wait a minimum of six weeks after local injections
Malignancy
Prosthesis and Implants located at treatment site
Learn More
3. Visit www.shockwavetherapy.eu for more information on Radial Pressure Wave Therapy including clinical studies and results.
4. Call us on (02) 9526-7633 to discuss pricing or click below to set up an appointment today.

Radial Pressure Wave Therapy in Caringbah , Cronulla NSW | (02) 9526 7633